School Entrance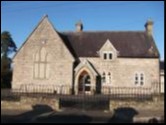 This is the front entrance to our school. Our school is a listed building located in a beautiful rural location in the historic village of Caledon. Our grounds overlook fields and mature trees. Our neighbours include rabbits, a squirrel and lambs in the springtime.
The School Grounds and Outdoor Play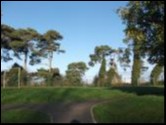 We have two hard surface playgrounds with painted playground games and a grass pitch with goalposts. We added a storage shed to store our equipment for positive play. The children in Foundation also make good use of our recently added outdoor covered play area in Play Based Learning. Mrs Cartmill leads our Eco-Schools programme and helps pupils to maintain our Eco garden. The children enjoy planting and harvesting vegetables from the raised beds.
The Multi-Purpose Hall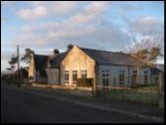 Completed in 2005 as part of the extension project carried out by the EA, the multi-purpose hall has proven to be a valuable asset to the school. The spacious hall with its extensive range of gym equipment is used in sports and physical education activities. With stage curtains and separate stores for our school stage the hall allows us to hold our assemblies, host visiting groups and perform fantastic Christmas concerts. The hall also serves as a dining area at lunch time.
The Primary 1/2 Classroom
This is where the children in the early Foundation Stage learn and play. The room is bright and attractive with a wealth of resources to develop early knowledge, skills and independence. The room is organised into zones for Activity Based Learning including writing, reading, creative, small world, construction and role play areas. The children love using the Interactive Whiteboard to enhance their learning. A learning board and visual timetable help pupils to take responsibility for their own learning. Miss Hutchison teaches this class and Miss Rebecca Fraser is the classroom assistant.
The Primary 2/3 Classroom
Mrs Wilson and Mrs Sullivan are the teachers in the P2/3 classroom. They are assisted by Mrs Bloomer and Mrs Kirkland. The Key Stage One room is bright and colourful with lots of natural light. Pupils also have access to the covered play area for activity based learning. The classroom is also equipped with a new interactive panel. Pupils also make use of the class set of iPads to assist them in their learning.
The Primary 4 Classroom
Welcome to Mrs Burton and Mrs Black's classroom. This is where the children in Primary 4 participate in a range of active and more formal activities to advance their learning. Like all of our classrooms, the children have access to an Interactive Whiteboard. The pupils make excellent use of this technology everyday across the curriculum . This classroom is bright and well organised including a learning board and 'traffic light' displays as part of our Assessment for Learning strategy. Mrs Morton and Mrs Kirkland are the classroom assistants in this classroom.
The Primary 5/6 Classroom
Welcome to Mr Clarke's room.
The Primary 6/7 Classroom

Welcome to Mrs Cartmill and Mrs Black's room. Here Primary 6 and 7 are well prepared for the next steps in their education. Pupils participate in engaging, challenging learning activities further developing their core knowledge and skills. With Mrs Cartmill's skills in arts and crafts, this is also a very creative classroom with pupils' work clearly on display. The room is appropriately organised for more mature pupils moving towards post-primary education. Mrs Black teaches Key stage two on Wednesdays and Thursdays. This mobile was added to the school in March 2018.
Churchill Primary School,
4 Church Hill Road,
Caledon, Co. Tyrone,
BT68 4UY
Phone: 028 3756 8605