About Us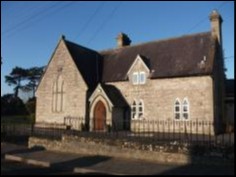 History and Location
Churchill Primary School is situated in the village of Caledon, opposite the Church of Ireland Church. The school is a listed building built in 1852 by the Dowager of Caledon. A mobile classroom was added in 1990 and this was replaced in March 2013. An additional KS2 mobile was added in March 2018. An extension to the existing school was completed in September 2005. This provided a new sports hall, kitchen, staff room and office. And more recently a staff car park and covered play area for P1-2 have been added to the premises.

School Organisation
Churchill is a co-educational controlled primary school for children between the ages of four and eleven years. Our school building is bright and attractive consisting of two permanent classrooms, two mobile classrooms and a multipurpose hall. Each classroom and the multi-purpose hall has an interactive whiteboard. Outside there are two hard surface playgrounds with playground markings and a grass pitch with goalposts. Children enjoy working in the Eco garden with raised vegetable beds. We also have a willow dome and a variety of playground equipment to promote positive play.

Our Vision and Aims
At Churchill we aim to provide a caring, stimulating, safe and happy environment. We encourage each child to realise their full potential educationally, physically, emotionally and spiritually. Every pupil is valued and supported to become confident individuals, successful learners and responsible young people. We recognise the value of the partnership between school and parents. We work together towards educating and preparing our children for each stage of their lives. Please download our school prospectus to view further details on our curriculum, specific aims and policy statements.
Churchill Primary School,
4 Church Hill Road,
Caledon, Co. Tyrone,
BT68 4UY
Phone: 028 3756 8605